MrJims.Pizza 0013
- Owner(s): Robert Hudson
670 Big Stone Gap , Duncanville, TX 75137
Store Hours
Sunday: 11:00:AM to 09:00:PM
Monday: 11:00:AM to 09:00:PM
Tuesday: 11:00:AM to 09:00:PM
Wednesday: 11:00:AM to 09:00:PM
Thursday: 11:00:AM to 09:00:PM
Friday: 11:00:AM to 09:30:PM
Saturday: 11:00:AM to 09:30:PM

Payment Options
Online Payments Accepted:
Credit Cards Accepted:
Mastercard
Visa
American Express
Discover
A Word From the Store Owner
Family-owned and operated, MrJims.Pizza of Duncanville has been a neighborhood favorite for over 30 years!
We take pride in our products and believe that we offer a superior pizza, made with freshly chopped vegetables and pizza dough that is made in our store daily.
Customers have found a new favorite in our Pizza D'Lish line of pizzas -- the same fresh ingredients, but with a lighter crust and topping weight that deliver great taste with fewer calories, at a value price. Please keep in mind that the Pizza D'Lish pizzas are sold as-is, without customization or changes (you may remove a pre-selected topping, but you may not add, substitute or use half toppings).
Please note that we do not accept competitor's coupons (including the Franchisor's website) on telephone orders, so be sure to ask us about our exclusive offers and non-advertised specials.
Try out new Pasta Marinara. We have baked penne that is created for your order. It comes with marinara sauce and cheese but you can also add 2 of your favorite toppings. Try it with our new Italian sausage.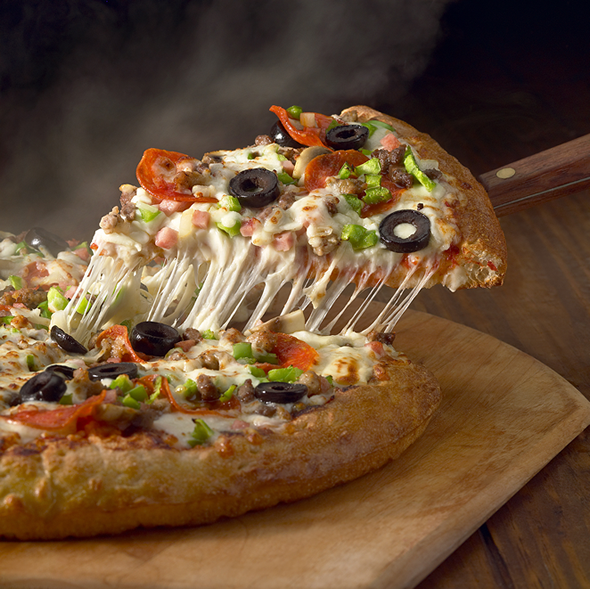 Introducing "Dinner Made Easier"
New familiy size portions of our menu... entrees, salads, and dessert. Feeds 4-7 people.
MrJims.Pizza has always been an easy dinner. But now, we're making life even easier for family meals or a big spread for the big game.
Start Order