MrJims.Pizza Pizza Points Rewards
Pizza Points are the super-simple way to get free stuff MrJims.Pizza!
For each qualified purchase you make on participating items, you'll get 1 Pizza Point for each $1 you spend. When you've earned 500 points, you'll get a code for a free reward!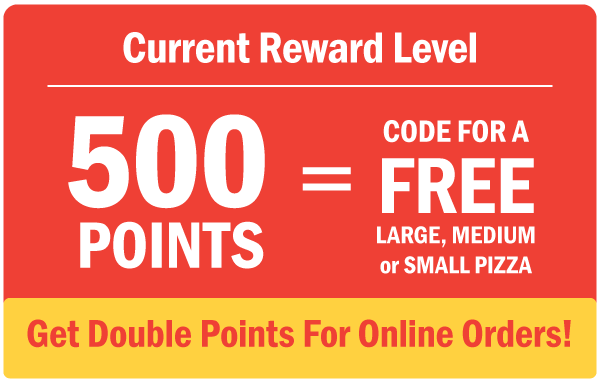 How do I redeem my points?
Within 24 hours after you accumulate 500 points you will be sent an email with a code to redeem your reward. Use that code online to get your reward or, at participating locations over the phone or at the counter. Once you accumulate the required number of points for a free pizza:
The required numbers of points are deducted from your account.
You are sent an email with code for your reward. [Not valid for 24 hours.]
The code is in your account and listed above; if you are signed in and have selected a store.
The code is in your account and will be visible in our system at participating locations.
To see your actual reward balance and any unused rewards you may have, you must log into your account and select a store for a purchase.
Program Details
On 21 August 2023 100 points were added to every customer's reward total.
Points are only given for phone-in orders or Online users that set up accounts.
Qualifying customers are awarded pizza points on qualifying purchases. Qualifying customers are awarded one point for every dollar spent at participating MrJims.Pizza locations. No online account needed.
Online orders earn double points.
Online guests accounts do not receive points.
MrJims.Pizza Pizza Points are available on all qualified MrJims.Pizza online, in store or over the phone purchases. Purchases over the phone or at the counter at non-participating locations will not accumulate any points. Points are not available and will not accrue on any purchases made in any other manner.
Pizza Points member accounts must have points earning or redeeming activity once every 18 months to remain active. After 18 months of no activity all points will be forfeited. Each qualifying activity extends the expiration date of all unexpired points' credit in your account for 18 months from the date of the qualifying activity. Qualifying activity is defined as redeeming any Pizza Points award or accruing points credit on any eligible MrJims.Pizza purchase.
MrJims.Pizza may change point accumulation values, redemption values, methods of accumulation or discontinue the program completely at its sole discretion at any time and without notice.
Any unredeemed points at such time will have no value and will expire.
Points will be credited only to the account of the Pizza Points member's login account. No point's credit will be awarded for canceled orders, free orders, or discounts given.
Except as otherwise explained below, point's credit is not transferable and may not be combined among Pizza Points members, their estates, successors, and assigns. Accrued points credit and awards do not constitute as property of the member. No accrued points are transferable by the member (i) upon death, (ii) as part of a domestic relations matter, or (iii) otherwise by operation of law. However, MrJims.Pizza, in its sole discretion, may credit accrued points to persons specifically identified in court approved divorce decrees and wills upon receipt of documentation satisfactory to MrJims.Pizza and upon payment of any applicable fees. The member must adhere to the rules and limitations of the program.
Pizza points are not transferable between accounts. Points are accrued by one account only. If you have more than one account, you cannot consolidate your points.
Pizza Points credit is determined based on valid purchases. They accumulate only after the transaction is completed and you are in receipt of the order. MrJims.Pizza is the final authority on qualification for point's credit and reserves the right to deny or revoke points credit at any time if MrJims.Pizza deems necessary.
Your Pizza Points are not transferable or valid at any other pizza restaurant. MrJims.Pizza does not accept any other rewards program from any other rewards program or discount system.
Points accumulate until you reach redemption level.
Redemption level subject to change without notice.
Redemption Certificates/ Codes are valid the next day after they are awarded and for one year after they are issued.
Groups with contract pricing do not qualify for Pizza Points.
Orders placed through third party delivery service providers accrue zero reward points.
Pizza Points not valid in any political division where they are not lawful or otherwise invalid. Customers taking advantage of the reward points in ways that we did not envision will have their points eliminated and changes will be made to prevent such activity in the future.