It's the Crust!
Right from the start, the thing I've heard most often from my customers about why they love my pizza... "It's the crust!" It's no wonder. I've gone to great lengths to ensure the ultimate crust - from the perfect flour to the proper bake at the ideal temperature. Most importantly, our dough isn't shipped pre-stretched to our stores in cooler trucks (or even frozen!) like some pizza places. It is made fresh daily in our kitchens, allowed to rise to reach its peak flavor and structure profile, then baked to perfection, ensuring it holds up to our demanding expectations, even under cheese and toppings!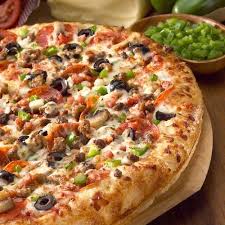 | | S | M | L | XL |
| --- | --- | --- | --- | --- |
| OriginalTM : Hand-stretched | | | | |
| Thin | | | | |
| Ultimate Double Cheese Crust | | | | |
| Spinach Ultimate Double Cheese Crust | | | | |
| OriginalTM : Heart-shaped | | | | |
| Heart-shaped Thin | | | | |
| Heart-shaped Ultimate Double Cheese Crust | | | | |
| Heart-shaped Spinach Ultimate Double Cheese Crust | | | | |
| Gluten-free | | | | |
| Caulifower (gluten free) | | | | |
| OriginalTM : Pizza D'Lish | | | | |
| Keto Pizza in a Pan (no crust) | | | | |
I'm excited to offer a gluten-free option that is an honest-to-God pizza crust! I searched for years and tried dozens of options before finding a gluten-free option that met my expectations-one with the taste and texture you'd expect from a traditional pizza crust!
The gluten-free crust is only available in the medium size. Please select the Gluten Free crust type when you order your medium Original TM pizza.
Note: MrJims.Pizza gluten-free crusts are made in a dedicated gluten-free facility by Smart Flour Foods, a leading national producer of gluten free products that serves both celiac and gluten intolerant customers, along with those who simply prefer to avoid gluten. The crust are certified gluten-free, but MrJims.Pizza restaurant kitchens are not. While we take reasonable precautions to avoid cross-contamination, please note that it is possible that the gluten used in our traditional pizza crusts and other foods could come in contact with our gluten-free crusts. The level of such potential contact is likely minimal and would not affect most people. Please take appropriate considerations, however, depending on your individual needs.
Smartflour Foods Ancient Grains Pizza Crust Ingredients: Smart Flour (Tapioca Flour, Sorghum Flour, Teff Flour, Amaranth Flour), Potato Starch, Modified Tapioca Starch, Sorghum Flour, Water, Olive Oil, Sugar, Agave, Flax Seed, Yeast, Salt, Xanthan Gum, Baking Powder (Sodium Acid Pyrophosphate, Sodium Bicarbonate, Cornstarch, Monocalcium Phosphate), Guar Gum, Baking Soda, Canola Oil. And it's naturally Free of Gluten/Wheat, Casein/Dairy, Egg, Soy and Rice.