MrJims.Pizza of Kenner
MrJims.Pizza 0048
- Owner(s): Smith Family
We are closed today because of closed for the day
2424 Williams Blvd Suite: Suite E , Kenner, LA 70062
Store Hours
Sunday: Closed
Monday: 01:00:PM to 09:00:PM
Tuesday: 01:00:PM to 09:00:PM
Wednesday: 01:00:PM to 09:00:PM
Thursday: 01:00:PM to 09:00:PM
Friday: 01:00:PM to 10:00:PM
Saturday: 01:00:PM to 10:00:PM

Payment Options
Online Payments Accepted:
Credit Cards Accepted:
Mastercard
Visa
American Express
Discover
NOW OPEN
A Word From the Store Owner
We are the Smith's and are excited to be the new owners of MrJims.Pizza in Kenner, Louisiana and meet more of our neighbors and become your favorite neighborhood pizza place.
Please stop in to say hello and treat yourself to one of our original (hand made - in house) crust pizzas. The conversation will always be a lagniappe while you wait for your order to be completed.
Down here in the Big Easy, we speak our own language. There is a bond between people that digs deeper than the crawfish we eat in the Summer, and it shows.
So bring "Ya Mama 'n' em" and let us help make your dinner decisions easier by trying one of our many delicious pizzas and other menu items.
*Do you love pepperoni? Then you must try the "Pepperoni Deluxe".
*Want more meat? Try our "Meat Eaters" with 5 different meats!
*Sticking with vegetables? The "MrJimaterian" is for you.
*Don't want a thin crust, don't want an original crust either? What you need to try is our Pizza D'Lish (the best of both worlds) it's our thinner (not thin) crust.
*Do you have a sweet tooth? LOOK NO FURTHER and try one of our sweet treats. Try our "Cin-Ful" Cin-Stix drizzled in butter and cinnamon sugar with a side of vanilla icing, our warm 7-inch round Chocolate Chip cookie, or our supreme brownie bites covered in yummy goodness with marshmallows, caramel & chocolate sauce.
There are so many great options on our menu. If you can't decide, come in or call and let us help you decide!
"Laissez les bon temps rouler." Lay-Zeh leh Bawn taw Roo-leh
LET THE GOOD TIME ROLL!
We hope to meet and talk to you soon.
Brian, Lisa, Tyler, and Logan
Try out new Pasta Marinara. We have baked penne that is created for your order. It comes with marinara sauce and cheese but you can also add 2 of your favorite toppings. Try it with our new Italian sausage.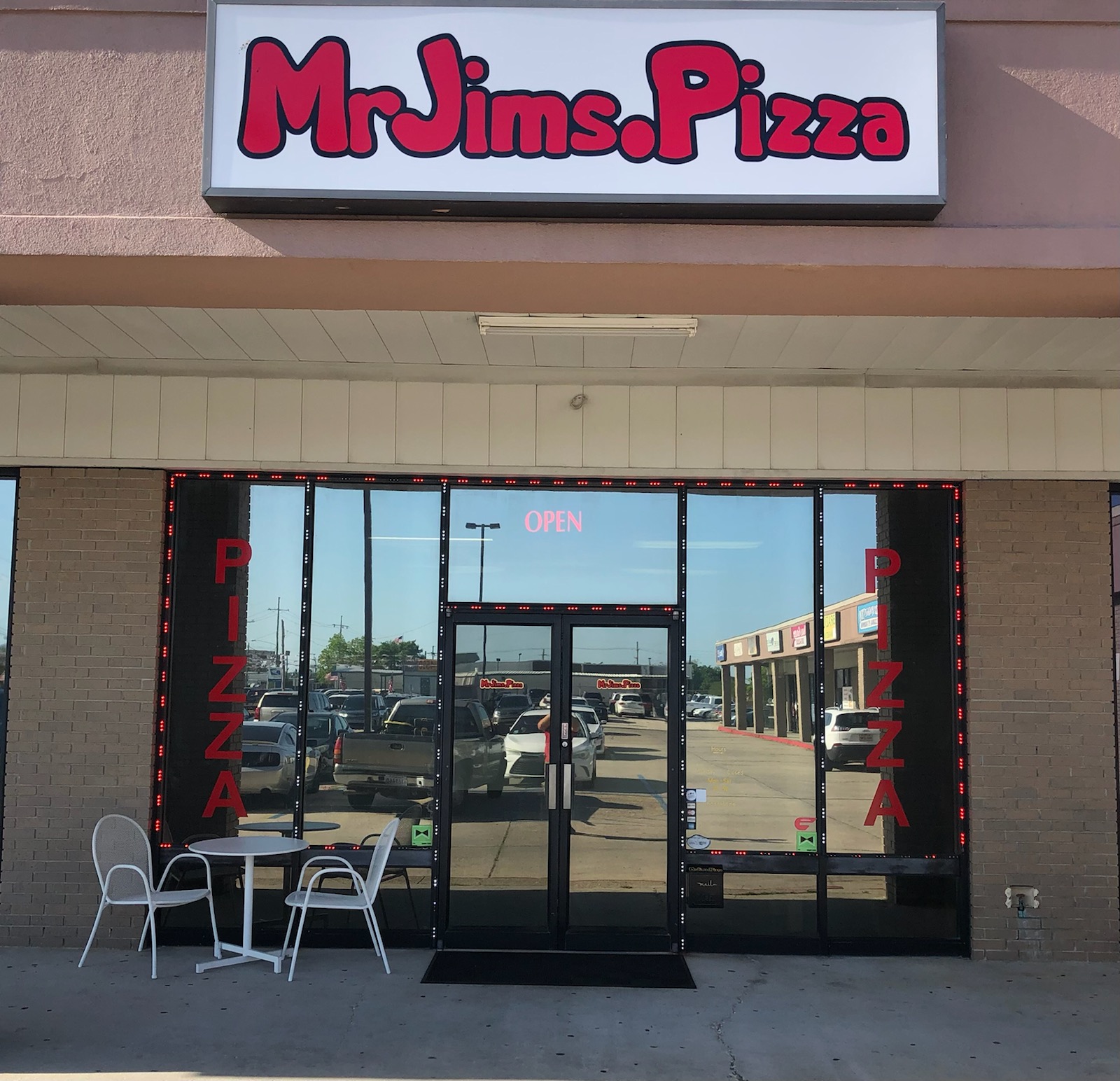 Introducing "Dinner Made Easier"
New familiy size portions of our menu... entrees, salads, and dessert. Feeds 4-7 people.
MrJims.Pizza has always been an easy dinner. But now, we're making life even easier for family meals or a big spread for the big game.
Start Order