The MrJims.PIzza Franchise Opportunity
GREAT PRODUCTS
All of our fresh hand-stretched dough is made fresh every day in every store. Our Original™ style pizzas have more fresh toppings than any of our competitors. With each bite of an Original, you'll taste all the toppings, sauce and crust, whether it's our Sticky Fingers Pizza (loaded with eight toppings) or any of our create your own, specialty and premier pizzas.
But as the times have changed, so have we. Not everyone likes thick crust and many people are price conscious. So, in 2011 we launched our new Pizza D'Lish line, with thinner crust and a nice balance of toppings. In most of our stores, all large D'Lish pizzas sell for just $9.99. This product has been a fantastic addition to our full product line and has improved sales even during the down economy.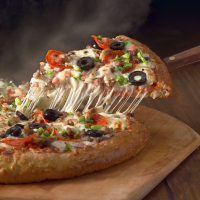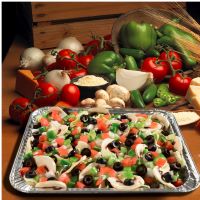 VERY LOW COST TO ENTRY
Why should our franchisee buy a new oven when they can get a perfectly good, reconditioned oven at a 50-70% discount? Why force franchisees to purchase expensive computer and point-of-sale systems that require monthly service and update fees? Why use land lines when Voice-Over-IP phones provide incredible flexibility, low cost and no busy signals? Why pay for more retail space than you need in locations that cost too much?
Our answer to all these questions is that you shouldn't pay one dime more than necessary to get your business started. Our "capital required" range is much lower than our competitors because we know that most people have limited funds and because we don't like paying more for anything than we have to. In an extreme example, we got one franchisee started for just $40,000 because we found an existing location with ovens already installed. That's unusually low, but it shows that we work hard to find the best deal available.
The table below compares the cost of starting a MrJims.Pizza franchise versus "the other guys". All information is taken directly from public sources:
| | Franchise Fee | Royalty % | Advertising % | Capital Required |
| --- | --- | --- | --- | --- |
| MrJims.Pizza | $11,000 | 6.00% | 4.00% | $75k-$150k |
| Papa John's | $25,000 | 5.00% | 7.00% | $160k-$395k |
| Pizza Hut | $25,000 | 6.50% | 4.25% | $300k-$400k |
| Domino's | $25,000 | 5.50% | 4.00% | $120k-$460k |
BIG SAVINGS ON FOOD COSTS
We negotiate special rates for all food and food service supplies and give all of those savings to our franchisees. Many of our competitors force their franchisees to buy from their own distribution centers. This puts the competitor is in the distribution business, not just franchising. Therefore they must run the distribution center at a profit like any other business. Just running a truck is a huge expense let alone all the other overhead they have to cover. Their distribution centers only have one chain as a customer. Therefore all the overhead [and profit] is born by that one customer, their own franchisees. When they run that huge truck out to a remote location and it comes back empty that's a huge expense that must be covered.
Not at MrJims.Pizza. We don't buy/sell food. We negotiate great contracts with the people who make our ingredients, like cheese, sauce and toppings. Then we shop distributors and have a separate contract with the distributor to purchase from our vendors and bring the products to our stores. Since the distributor has many different customers he rarely has to travel any great distance to reach an outlying MrJims.Pizza. There's always another customer of the distributor on the route that helps to defray the cost of running the truck. All the other customers help to pay for their warehouses, customer service reps, dock workers, trucks, insurance, utilities and management. Also we are free to move to another distributor if they no longer provide the service at the level and price we demand.
FIRST 21ST CENTURY PIZZA CHAIN
MrJim (yes, there is a MrJim) is committed to creating the best, most efficient systems for his franchisees. There's too much to describe here, but to view all the details of our 21st Century Pizza Chain Program click here.
Just to highlight one of the features, MrJim reviewed dozens of point-of-sale/order entry systems. Each would carry a substantial cost burden for the franchisees, would require monthly service fees and would be generic and would not interface directly with MrJims.Pizza online ordering system. So, instead of going generic, MrJim hired an IT staff to write the program from scratch. The result is a fully-integrated system with fingerprint scanning, automatic coupon tracking, Google map integration, instant credit card processing and much more! All of this at a total cost to the franchisee of $6,000 for the software and hardware. That's a one-time cost, no recurring monthly fees. Compare that to $20,000 and up at our competitors plus a high monthly maintenance fee.
View the Details of the our 21st Century Pizza Chain Program
STRONG BRAND AND ADVERTISING SUPPORT
MrJims.Pizza has a vivid, cohesive branding strategy. We carry that strategy through to all aspects of our marketing and advertising communications. We use our advertising funds to design promotions that indiviual franchisees could not do on their own.
Franchisees are able to customize the promotions at no extra charge. We produce high- quality radio, TV, Internet and print materials. Basically, we let you focus on running and building your business and give you the tools you need to grow your business.
APPROVED BUSINESS ADMINISTRATION (SBA) FRANCHISOR
While MrJims.Pizza does not provide direct funding, we are an approved SBA franchisor and can assist you in obtaining the funding you need to get started.
GET STARTED NOW!
What are you waiting for? Complete the simple contact request form and you will receive a brochure instantly (via email,) giving you more information about joining the MrJims.Pizza team. Or, you can call Randy Wooley directly at 800-583-5960 extension 2.